Recipient: Lighthouse Park Preservation Society
Funds: Howard Martin Memorial Fund
Grant Program: Community Grants
The Lighthouse Park Preservation Society (LPPS) mission is to:
– Protect the natural integrity of Lighthouse Park
– Promote public awareness of its natural features
– And support the development of biological zones near the Park boundaries and the nearby 5 parks network.
Our main activities include volunteer work parties for the removal of invasive species from the Park and surrounding park network, replanting with native species, education of the public through talks, walks and newsletters. Some of the talks are given at the West Vancouver Memorial Library so that seniors and those with mobility issues may attend, and during the pandemic the talks are being held via Zoom. Now we want to make sure these same people have the opportunity to enjoy at least a small part of the Park in safety and comfort.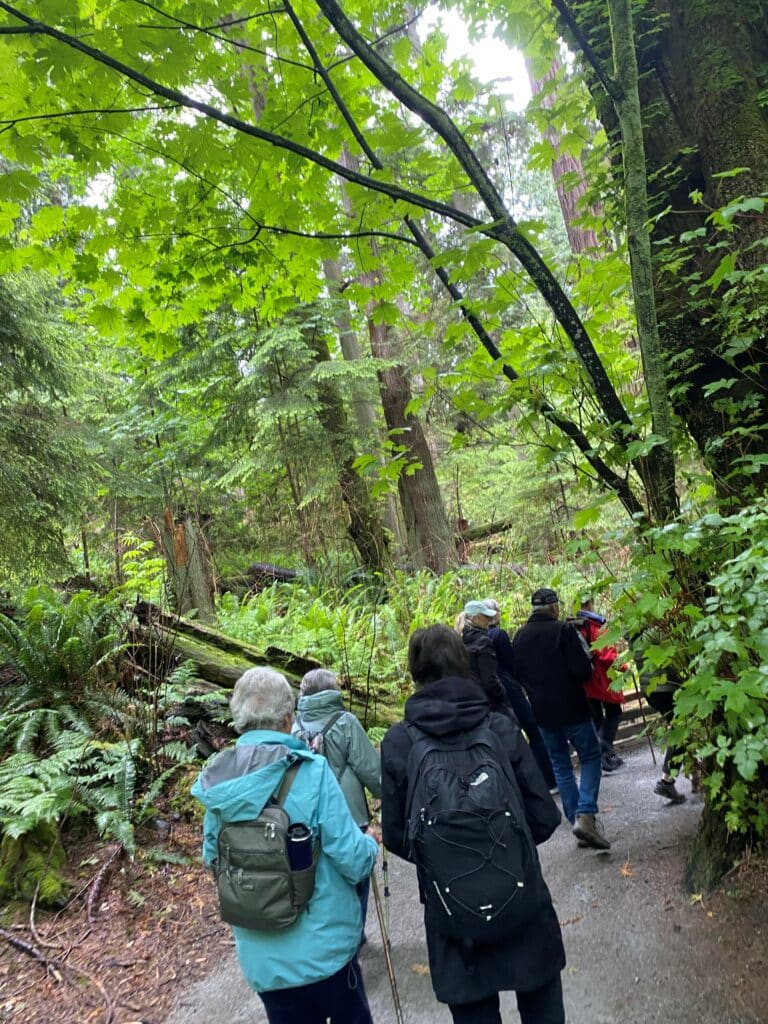 Birdsong Path
Birdsong Trail is a short, accessible path that journeys visitors into the park's dense forest, complete with a new bench and a wheelchair-accessible picnic table. 
The 450-metre-long trail begins near the entrance to the car park, which has two dedicated parking spots, and travels past two timber benches, a picnic area and leafy Douglas firs, cedars and maples before ending at a scenic viewpoint. 
Daphne Hales, director of the Lighthouse Park Preservation Society, said it is "lovely" those in walkers or wheelchairs can now experience the area. 
"The Lighthouse Park Preservation Society is all about welcoming people, we certainly don't want to try and keep people away from it," she said.
"So we decided as a society that the area needed to have a destination with a little area off the trail with a wheelchair-accessible picnic table, and then for the trail to go on to a beautiful viewpoint of an open area with rocks and lots of birds flying through it."
The Community Grant was used for:
Extending the accessible path by 30 meters
Two rest areas: one well off the path in shaded forest, with a gravel surface and a sturdy wheelchair-accessible picnic table, and a second area further on with a bench facing a large moss- and fern- covered rock in a sunny spot well known for song birds and hummingbirds. Both rest areas have adequate turnaround space (CSA standard requirement).
Appropriate signage to welcome people to the path and to indicate the two rest areas and to indicate the end of the accessible trail will be installed.
Read more in this North Shore News article. 
Celebration
On June 18, 2022, the Society held a celebration for the new trail opening.