GIVING LOCAL, LIVING LOCAL SINCE 1979
In 1978, Mayor Derrick Humphreys appointed a special committee to explore the possibility of creating a charitable foundation that would inspire and steward local philanthropy for local benefit. A year later, in September 1979, the first meeting of the Board of Directors was convened with Mayor Derrick Humphreys, Mr. Frank Griffiths Jr. (for his father), Mr. Charlie Hopkins, Mr. Bill Hyndman, Mr. David Mathieson, Mrs. Kay Meek, Mrs. Mary Pattison, Mr. Gordon Rowntree, and Mrs. Shirley Sager. Their legacy is profound. In partnership with donors, more than $5 million has been granted to community projects and organizations.
From 1979–1989, the West Vancouver Foundation was seeded by the founding donors: Mr. Moh Faris, Mr. Frank Griffiths, the Lawson Family, Mrs. Kay Meek, Mr. Jim Pattison, Mr. J. W. Poole, Mr. David Spencer, Mr. and Mrs. C. Sorenson, the WV Visual Arts Society, the estates of Mrs. Winnifred Gibson and Mr. Roy Wrigley and our founding corporate partner British Pacific Properties.
In 2014 the Foundation received its largest gift to date through the estate of Mr. Howard Martin, a West Vancouver resident, developer and philanthropist. The Howard Martin Memorial Fund was established with a $3.6 million gift and the income earned from this fund is directed towards local projects and programs which address our community's greatest needs.
In 2019, West Vancouverites Ian and Rosemary Mottershead established the Ian and Rosemary Mottershead Endowment Fund with a $5 million gift. Familiar with community foundations, Ian and Rosemary chose to transition their family foundation to a higher impact, lower administration, donor advised fund with the West Vancouver Foundation.
It is thanks to the original vision of Mayor Humphreys, the ripple effect created by the generosity of the founding families and residents like Howard Martin and Ian & Rosemary Mottershead, that the West Vancouver Foundation now manages assets of more than $25 million, making it the largest in the Sea to Sky region.
Mr. Frank Griffiths
Mrs. Kay (Norgan) Meek
Mr. Jim Pattison
Mr. J.W. Poole
Sorenson Family
David Spencer
WV Visual Arts Society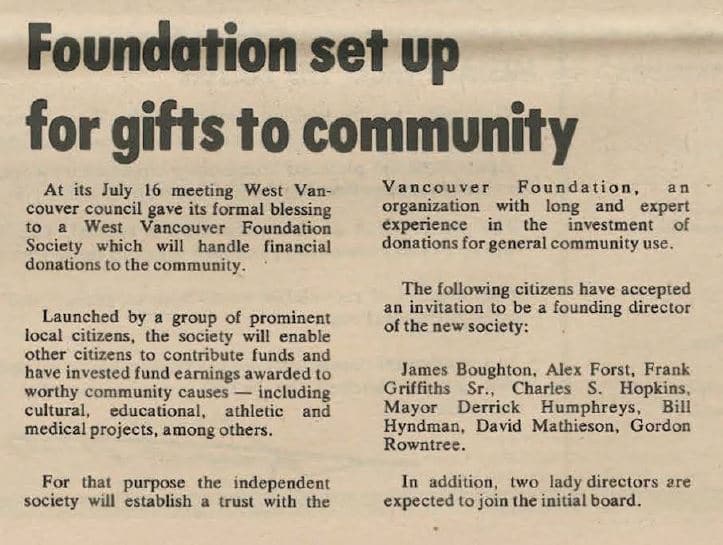 Donate to an existing fund or establish a new one
Helping you support the causes that you are passionate about is what we do best. Make a gift to any of the specific funds listed, or to the Caring Community Fund to support the community broadly. Should you prefer to set up a new fund, we can tailor it to the specific interests and needs of you, your family, organization, or company. To discover the power of your generosity email mylegacy@westvanfoundation.ca.