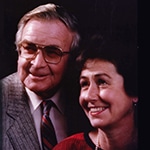 Through his estate, Howard Martin made a generous donation to the West Vancouver Foundation and in 2014 the Howard Martin Memorial Fund was created.  Speaking for the family, Martin's grandson Maxwell Darling, said: "We are so grateful for the opportunity to see our grandfather's philanthropic legacy come to realization ensuring both causes and communities he admired, championed and supported throughout his life continue to receive much needed support."
A $27 million bequest was divided between four organizations:
The West Vancouver Foundation gratefully uses the income from this gift to support the annual grant programs.
Howard Martin was the husband of Joanne Martin and father of Jo Ann, Dale and Jane, all of B.C. He was a leading developer in Vancouver and the North Shore who took over the development of the Caulfeild neighbourhood from Francis Caulfeild, travelling to England to purchase the remaining lands from the Caulfeild estate. He donated 10 acres of this land to establish the Caulfeild Elementary School in 1954 with the proviso that the eastern end of the property should be kept as forest, because he believed that children should have direct contact with nature.
Martin built homes around the school during the 1960s and 1970s and was instrumental in bringing together the various owners in a process that led to the 1978 approval of the development of the Caulfeild neighbourhood around the school.
Please note: 
In order to properly recognize all donors for their contributions, West Vancouver Foundation will share your name and donation amount with the fund representative unless you have checked the anonymous box on the donation form.
This fund's granting purpose is subject to change.