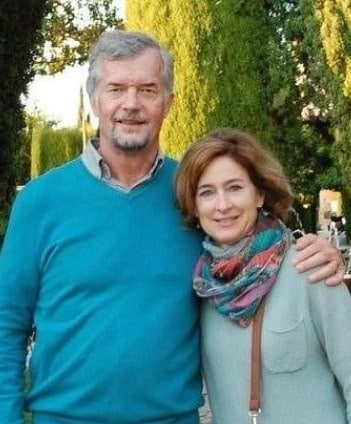 Caroline Helbig and Michael Sharp had an abiding love for family, friends, and place which gave their lives purpose and brought joy to those lucky enough to know them. With their much-loved son, Alex, they lived a full and adventurous life while also contributing to the community through service, everyday acts of kindness, and enthusiastic community leadership.  Tragically, Caroline and Michael were killed in an accident on January 2, 2022, in their West Vancouver home during a windstorm.
Established in 2022 the CAROLINE HELBIG AND MICHAEL SHARP MEMORIAL FUND serves as a legacy to this couple's enduring spirit, friendships, and community contributions. Two memorial scholarships—one in environmental stewardship and the other supporting a hockey player — are being administered through the West Vancouver Foundation. Caroline was passionate about the outdoors and Mike volunteered tirelessly coaching youth hockey in West Vancouver for many years. Further memorial grants recognizing the interests and passions of Caroline Helbig and Michael Sharp will also be considered.
About Caroline
Standing up for nature – protecting Whyte Lake and the surrounding pristine wetlands from highway expansion in West Vancouver – was the essence of Caroline. She was a founding member of the Coalition to Save Eagleridge Bluffs and above all a community leader. Her energy, commitment and calm perseverance was crucial in galvanizing the Coalition.  Caroline's love of travel and hiking, near and far, allowed her to explore and document diverse cultures and wild landscapes.  As a blogger, travel writer and photographer, Caroline's deep connection to nature inspired others to look a little more closely at the world around them. Family and friends were woven into every aspect of Caroline's life and fueled her drive for a sustainable world and future-focused action.  
About Michael
Known as "Sharpie" to his hockey pals, hockey was a big part of Mike's life. As a teenager, he played goal for the Regina Pats of the Western Hockey League. He was a former coach and President of West Vancouver Minor Hockey until 2015. The organization called Mike a "selfless leader and a true gentleman." Sharpie played with several groups across the North Shore, including 20 years with the Wednesday night pick up group at Ice Sports (now known as Sharpie Hockey), the Monday noon pickup group at the West Vancouver arena, along with several teams including the Ravens and Rebels. He excelled in goal, playing at a high level into his late 60's.  The heart and soul of the dressing room, Mike was always ready with a smile and story from his and Caroline's travels around the world. He was acutely aware of the rhythm of the team and stepped forward when someone needed a personal gesture of friendship and support.
Please note:
In order to properly recognize all donors for their contributions, West Vancouver Foundation will share your name and donation amount with the fund representative unless you have checked the anonymous box on the donation form.
This fund's granting purpose is subject to change.